Ron McNutt, Senior Partner at RMi Executive Search, is a Certified Professional Behaviors Analyst certified in administering and debriefing the DISC Assessment.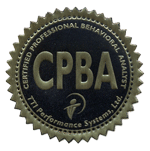 Certified Professional Behavioral Analyst
Do you know DISC?
The
DISC Assessment OR DISC Profile is the most widely used behavioral assessment tool, adopted by organizations around the world to improve teamwork and understand different communication styles. Mastering the DISC assessment
will not only improve hiring success, improve employee coaching and improve overall communications and leadership skills, but it can also improve sales and customer service.
The DISC assessment (often called DISC personality test) is a four-quadrant behavioral model developed by William Marston in 1928. DISC is a universal and observable language of behavior or "How" you do what you do.
(D) Dominance is a measure of "How" you respond to problems and challenges.

A High D: New problems solved quickly, assertively, actively. Gets to the bottom-line quickly.
A Low D: New problems solved in a controlled, organized way. Thinks before acting.

(I) Influence is a measure of "How" you interact with and influence others to your point of view.

A High I: Meets new people in an outgoing, talkative manner. Gregarious and emotional.
A Low I: Meets new people in a quiet, controlled, reserved manner. Emotionally controlled.

(S) Steadiness is a measure of "How" you respond to change and the pace of your environment.

A High S: Prefers a controlled, deliberate work environment. Values security of situation.
A Low S: Prefers a flexible, dynamic, changeable environment. Values freedom of expression.

(C) Compliance is a measure of "How" you respond to rules and procedures set by others.

A High C: Likes things done 'the right way,' and says, "Rules are made to be followed."
A Low C: Works independently of the procedures and says, "Rules are made to be bent or broken."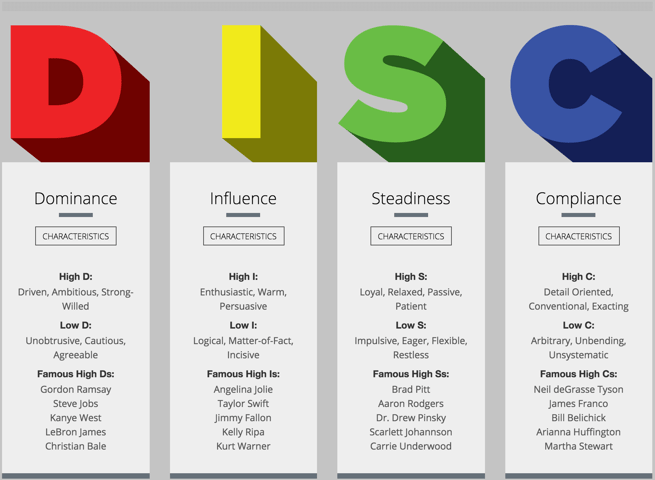 Ready to improve your recruiting, hiring and coaching with DISC profiles and assessments--Call

843-628-3974

or contact us today!