Last week, I wrote about making a commitment to get better. To follow on that post, I want to discuss another idea I learned from Brian Tracy called the "1000% Formula." I was reminded of it after reading this article about how 1% improvements led to "Olympic Gold" for the British Cycling Team. These concepts are based on the "Slight Edge Theory" or "Marginal Gains Theory."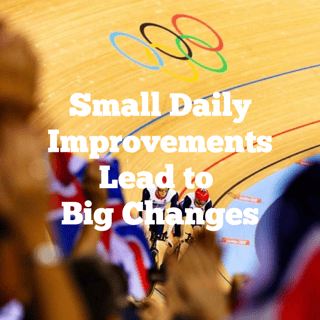 All to often I see people make huge commitments to change, get started and then give up because their plans become overwhelming. Following is a better, more sustainable approach we use in executive coaching. It's based on the Law of Incremental Improvement…basically, that small incremental improvements and changes lead to big improvements and changes over time.
Do you believe it is possible to improve your overall productivity, performance and output by 1/10th of 1% each day?
Absolutely! If you continually learn, study and upgrade your skills, clarify and re-clarify your goals, set better and clearer priorities and focus on progressively more valuable tasks…I am certain you can increase your productivity, performance and value by 1/10th of 1 percent or 1/1000th each working day…day after day…indefinitely! And if you do...
1/10th of 1% per day improvement translates into approx. ½ of 1% per week
½ of 1% per week into 2% per month
2% per month into 26% per year (What would you do with an extra 2 hours a day or a 26% increase in your income?)
26% each year, compounded year by year means you double your performance in 2.7 years
Over 10 years, improving 1/1000th per day (1/10th of 1%), 26% per year, you will increase performance by 1009%
The time is going to pass...why not improve while it is passing. Here's a short movie by "Give More Media" to get you motivated...Watch...Enjoy...and IMPROVE!