Happy Thanksgiving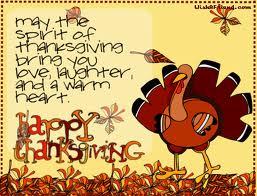 Since 1863, we have celebrated the national holiday of Thanksgiving in late November. Patterned after early colonial celebrations dating back to the late 1500s in which settlers gathered for a day of "Thanksgiving Prayer" following a bountiful harvest...modern day Thanksgiving tends to conjure thoughts of leisure, feasting, football, floats and Christmas shopping.
Today's post focuses on the more traditional meaning of the holiday...encouragement and thanks.
If you have felt considerably blessed this year, consider sharing your blessings with others and donating to the Opportunity Hub, a provider of food, shelter and services to the homeless in Spartanburg, South Carolina.
---
An Attitude of Gratitude

Not feeling very thankful this Thanksgiving. Had a challenging year due to personal or professional setbacks? Finances low, relationships strained...maybe even ill or out of work? STOP! Stop before you waste this awesome opportunity to feel better and recognize that even though you may have experienced some significant challenges and setbacks this year, you probably still have a lot to be thankful for. No, I'm not talking about donning a pair of "rose colored glasses" and accepting everything as OK. What I'm suggesting is that by taking personal responsibility for your thankfulness, you might just be surprised.
Still not sure. Well, my experience is that often to regain my feelings of gratitude, I have to get out of myself and act my way into the right way of feeling.
Here are some ACTIONS that might just rekindle your "Attitude of Gratitude":
Make a gratitude list: Take out a piece of paper and jot down 10-20 things you are thankful for. Commit to do this daily until you wake up feeling grateful!
Volunteer: Thanksgiving is a great time to visit a shelter and volunteer to help feed those truly less fortunate than you. Or maybe they're not less fortunate, but this is still a great way to get out of yourself and think about someone else's well being for a few hours.
Smile and say Thank-You: These two actions often renew our gratitude when the same smile and thank-you are returned to us.
Donate to a charity like WaterMission in Charleston, SC, that helps provide clean drinking water around the world.
Watch this video and try the suggestions.
Author Melody Beattie says "Gratitude unlocks the fullness of life. It turns what we have into enough, and more. It turns denial into acceptance, chaos to order, confusion to clarity. It can turn a meal into a feast, a house into a home, a stranger into a friend. Gratitude makes sense of our past, brings peace for today, and creates a vision for tomorrow."
So what are your grateful for?
---
Who Will You Encourage Today?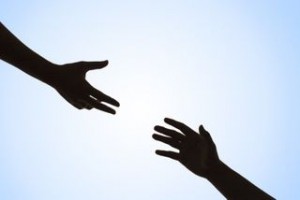 The dictionary defines ENCOURAGEMENT as "the act of encouraging: the state of being encouraged."
While reading a John Maxwell article, I was reminded of its importance and value. In the article Maxwell relates a story from A 2nd Helping of Chicken Soup for the Soul that I would like to share with you.
"The author of the story, Dan Clark recalls when, as a teenager, he and his father stood in line to buy tickets for the circus. As they waited, they noticed a family immediately in front of them. The parents were holding hands and had eight children in tow, all under the age of 12. Based on their clean, but simple clothing, Clark suspected they didn't have a lot of money. The kids chattered about the exciting things they were expecting to see, and he could tell the circus was going to be a new adventure for them."
As the couple approached the counter, the attendant quoted the price for the entire family. The woman let go of her husband's hand, and her head dropped. The man leaned a little closer and asked, "How much did you say?" The attendant again quoted the price; the man obviously didn't have enough money. He looked crushed. Clark says that his father, who was watching all of this play out, put his hand in his pocket and pulled out a $20 bill and dropped it on the ground. His father then reached down, picked up the bill, tapped the man on the shoulder and said, "Excuse me, sir, this fell out of your pocket." The man knew exactly what was going on, and he looked straight into Clark's father's eyes, took his hand, shook it and, with tears streaming down his cheeks, replied, "Thank you, thank you, sir. This really means a lot to me and my family."
Clark and his father went back to the car and drove home. They didn't have enough money to go to the circus that night. But it didn't matter. It encouraged the whole family. And it was something neither family would ever forget."
Additionally, Maxwell tells how Walt Whitman the great American poet had struggled for years to get anyone to take notice of his poetry, then one day, he received this encouraging note:
"Dear Sir, I am not blind to the worth of the wonderful gift of Leaves of Grass. I find it the most extraordinary piece of wit and wisdom that an American has yet contributed. I greet you at the beginning of a great career. Signed, Ralph Waldo Emerson"
Wow...what would it mean to you if someone in your field, someone you respect and admire wrote you a similar note? On the flip side, who do you know who could use some encouragement today? Don't delay...call or write them today!
---
More on Hiring an "A Player"
How's this for an idea: If the Pilgrims had not been Topgraders, had they not elected an "A Player" leader, their Plymouth Colony would have failed and the Dutch, French, or Spanish would have taken over the New World. No America! No Thanksgiving! Think about that when you enjoy your turkey dinner! Read More
---
And Being an "A Player"
Originally aired in November, 1973, we've been enjoying 'A Charlie Brown Thanksgiving' for more than 45 years. Based on the popular comic strip Peanuts, I think all would agree the creator, Charles M. Schulz, was an "A Player." Following is a short clip:
Happy Thanksgiving to you and your family!
RMi Executive Search
---