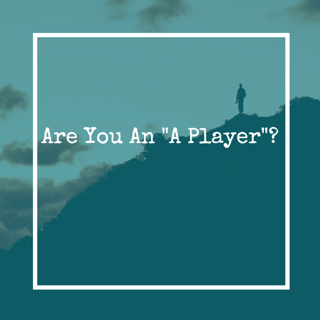 The most important factor that contributes to a company's success is the people they hire. Now more than ever, companies are taking that to heart. Employers are looking for people that can help lead their business to success. They are looking for someone with ambition and a strong work ethic. They are looking for the best employees, "A Players."
Are you an "A Player"?
We use the phrase "A Player" quite a lot at RMi Executive Search, but what defines an "A Player"? We've talked about traits of an "A Player" before, but let me give you two examples to help further define the concept:
John works at a local newspaper selling advertisements. He arrives to work Monday morning at 7:45 to get a jump-start on his day. After crossing off the first few tasks on the to-do list he wrote Friday before leaving for the weekend, he begins making client calls to achieve his 60 call goal. Throughout the day, he crosses off one task after another and even closes a few sales. Towards the end of the day, he suddenly remembers that he didn't send a contract to a client that he promised would arrive that morning. He immediately calls the client and apologizes for his oversight, stating that it was completely his fault and that there was no excuse for what happened.
Jim works at the same paper as John and also sells advertisements. He comes in Monday a little after 9:00 AM because the line at Starbucks was out the door, but he had to have his "Iced Caffe Americano." He begins working, accomplishing a little here and there, but not really getting a complete task done. He moves on to his calls and does manage a sale. After lunch, Jim and his coworkers have a meeting with the Sales Manager where he is expected to show the new ad layouts for one of his clients. When called, he is not prepared and quickly shifts the blame to another coworker.
"A Players" are defined as high achievers, the top 10% of talent available, at every salary level; they are "best of class" whether the job is receptionist or senior executive.
Between John and Jim, who do you think is the "A Player"? It is pretty obvious that John is the winner, but why? To begin with, he arrived at work early in order to maximize his time. Second, he wrote down what he needed to accomplish throughout the day. Writing down his tasks greatly improves efficiency. While both John and Jim make sales throughout the day, it takes more than just hitting sales goals to be an "A Player." It is the final point that makes John the outright winner. When confronted with a mistake he had made, John immediately took personal responsibility while Jim tried to find a scapegoat. Personal accountability and the ability to respond to a mistake in a mature manner is by far the most important quality in an "A Player."
So now that you have a better working definition of an "A Player," let me ask you again: Are You an "A Player"? As you begin your job search, take inventory and make sure the answer is YES! (Needing a makeover...download the free eBook below.)