By now, you know mis-hires are expensive and that it is crucial to the success of your business to hire the right people the first time.
You may think that finding someone with an exemplary resume who also blows you away in the interview is enough to guarantee an "A Player." That assumption could be very costly! A person is so much more than a piece of paper or an interview. Resumes can be embellished, and many people are experts at telling you what you want to hear. While you may think you are hiring an "A Player", you could possibly be hiring someone who will cost you money in the long run.
At RMi Executive Search, we go beyond just a resume and interview utilizing assessments to ensure our executive recruiters hire your "A Player!"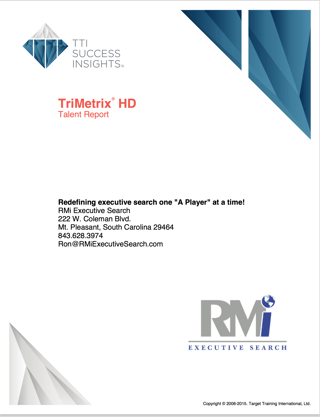 Research has shown that doing only one assessment (e.g. an interview) will not allow you to hire your "A Player." It is vital to analyze candidates on multiple levels. Using the TTI TriMetrix® HD- a bias-free assessment used to analyze individual performance- our executive recruiters analyze an individual's behaviors, motivators, acumen indicators, and personal skills. These various areas reveal HOW individuals will perform, WHY they act the way they do, what they CAN do, and WHAT their strengths are. These four areas act as a benchmarking tool, defining the requirements of each job and enabling employers to compare talent to the position in order to find the best fit for the position.
Analyzing individuals in each of these areas will dramatically improve your chances of finding your superstar.
Identified through a DISC Assessment, an individual's behavior is based on four dimensions: dominance, influence, steadiness, and compliance. Each of these reveals how an employee will perform as well as guide you on how to best communicate with them.
Knowing a person's motivators and drivers, whether they be theoretical, utilitarian, aesthetic, social, individualistic or traditional, will allow you to encourage them in a way that fulfills their inner drive.
As a person's acumen is directly related to his or her performance level, knowing the thought processes (both internal and external) that affect performance will give you a better idea of what they can do.
Finally, the assessment will reveal an individual's strengths that are directly related to a business environment. The top skills outlined will reveal where a person is most effective.
Recruiting assessments
are an accurate way to find a candidate's true strengths. While a person could say in an interview that they work well in a team, the assessment might show that they are much more successful when they work as an individual. If the position you are trying to fill requires ample amounts of teamwork, you might want to pass on this candidate. Without an assessment, you might only find out months down the road that your new employee is not performing in a team setting, forcing you to start the search over.
RMi Executive Search will help you avoid the hassle and expense of finding a new employee by using the TTI TriMetrix® HD to find your "A Player" the first time.